P-EASD 2015/2016 ON-LINE REGISTRATION
The Palmyra-Eagle Area School District will be holding On-Line Registration for the 2015/16 school year for the entire district on August 1 through August 23, 2015. In order to complete the online registration process, you must use Skyward Family Access. Click on the Skyward logo below to login. Click on the instruction manual for assistance.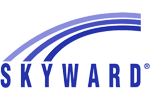 Registration for all returning students must be done on-line.

As a convenience to parents, P-EASD has added a new feature to on-line registration that allows parents to pay registration fees, in addition to food service fees on-line. A convenience charge of $2.00 will be assessed per transaction when paying fees on-line.
Parents must register any new students in person, at the school their child will be attending on one of the dates listed below.
The option to register on-line from home or work is available for parents to complete between August 1- August 23rd. On-line registration will also be held at each building. Computers will be accessible in each building during registration hours. Staff will be on hand to assist you in this process. Please note the dates and times listed below:

Registration Dates

Eagle Elementary School:


August 3, 2015 – 2:00 p.m. to 6:00 p.m.


August 4, 2015 – 8:00 a.m. to 12:00 p.m.




Palmyra Elementary School:


August 10, 2015 – 2:00 p.m. to 6:00 p.m.
August 11, 2015 – 8:00 a.m. to 12:00 p.m.
Palmyra-Eagle Middle/High Schools:




August 4, 2015

– 2:00 p.m. to 7:00 p.m.
August 12, 2015 -8:00 a.m. to 1:00 p.m.